Skip to Content
Our Eyeglasses and Eyewear
The Optical & Hearing Centers has a large inventory of eyeglasses with over 3,000 frames on display in Matamoras, PA, Stroudsburg, PA, Oak Ridge, NJ, and Newton, NJ. Our skilled staff is always here to help you find the right glasses or other eyewear so that you make the impression you want. Whether you're choosing your first pair of glasses or you're cultivating a new aesthetic, our optometrists are ready, willing, and able to help you find your next, flattering pair of glasses, from basic frame options to lens design options.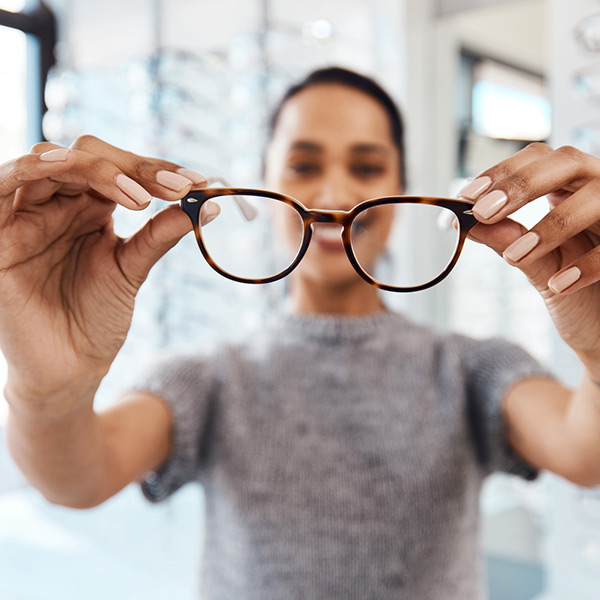 Choosing Your Frames
A qualified professional in our optical center can help you determine the best design for your face. Ideally, glasses should highlight a positive physical attribute, such as the color of your eyes. Frame size should be in scale with the size of your face, and the shape of the lenses should contrast your facial shape. Your natural coloring — including hair, eye, and skin tone — can also have an impact on the best style for your face. For example, those with cool undertones often look great with black, brown, gray, magenta, or blue frames, while those with warm undertones might prefer gold, copper, orange, coral, red, or off-white eyeglasses. With over 3,000 frames on display, we're certain we can help you find the right pair.
Caring for Your Glasses
You can save yourself hundreds of dollars by properly caring for your prescription glasses. Clean your lenses with water and mild soap or an approved lens cleaner and dry with a microfiber cloth. Never use a paper towel or napkin to dry as they can scratch the lenses. Always grasp glasses by the bridge. When not in use, store your frames in your case. Visit us today to find the latest cleaning products for your glasses.
Expert Hearing & Vision Care at Four Locations in Northern New Jersey and Northeast Pennsylvania