Skip to Content
Hearing Exams
The Optical & Hearing Centers provides world-class hearing exams at our facilities in Matamoras, PA, Stroudsburg, PA, Oak Ridge, NJ, and Newton, NJ. Regular hearing exams are an important part of maintaining your ear and hearing health. It is important to stay on top of even minor-seeming hearing issues, such as ear infections or ringing in the ears, as these conditions can worsen to the point of partial or total, permanent hearing loss.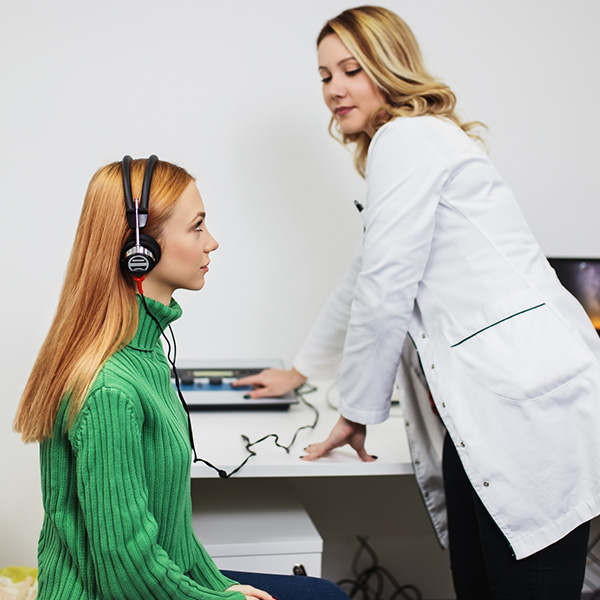 Hearing Evaluations
Our evaluations consist of a comprehensive diagnostic evaluation of your auditory system and function and a hearing test for individuals 18 years and older. We also perform a video otoscopy for a more detailed view into your ear canal to assess physical ailments or issues. If you wear hearing aids or are coming to us to be fitted for such an apparatus, we will also perform a computerized hearing aid analysis or Real Ear Measurement to ensure that we provide you with the best hearing aid possible.
Hearing Accessories
We sell premium hearing aid batteries, wireless remotes, TV streamers, remote microphones and other accessories, custom ear molds for hearing aids, iPods and MP3 players, water protection earplugs, and noise protection for musicians, athletes, and live music enthusiasts.
Hearing Aids
Our stock of hearing aids is large and ranges in both type and digital integration. We specialize in digital hearing aid technology, so if you're looking for a more seamless product that is easy to control, clean, and make part of your life in general, look no further than The Optical & Hearing Centers. We also provide assistive listening devices, and follow-up fine-tuning visits are encouraged to ensure that your device is providing you with the maximum benefit possible. We provide a 30-day free trial on new fittings so that if your device ends up not working out, you have plenty of opportunities to reassess your decision.
Additional Services
Our additional services include:
Hearing aid repair services for all makes and models
Hearing aid cleaning services
Routine maintenance and cleaning
Rehabilitation services
Counseling for hearing loss and tinnitus
Seminars for groups and organizations, including support groups
We provide loss and damage insurance for all instruments purchased at our center.
Expert Hearing & Vision Care at Four Locations in Northern New Jersey and Northeast Pennsylvania