Skip to Content
Our Hearing Aids
The Optical & Hearing Centers provides state-of-the-art hearing aids in our four facilities located in Matamoras, PA, Stroudsburg, PA, Oak Ridge, NJ, and Newton, NJ. Our hearing aids are designed to help you live better and more clearly. The 21st century has brought with it many technological advances that have improved hearing aids considerably. They are now unobtrusive, comfortable, and come in a variety of styles and models. If reduced hearing has had or is having a negative impact on your life, you can rely on us to help find the right device for you. We stay up to date on all hearing aid advancements, from improved designs to more sophisticated technologies. Some of the hearing aids we carry include:
Top-quality digital hearing aids
Invisible models
Receiver-in-canal
In-the-canal
Completely-in-canal
In-the-ear or behind-the-ear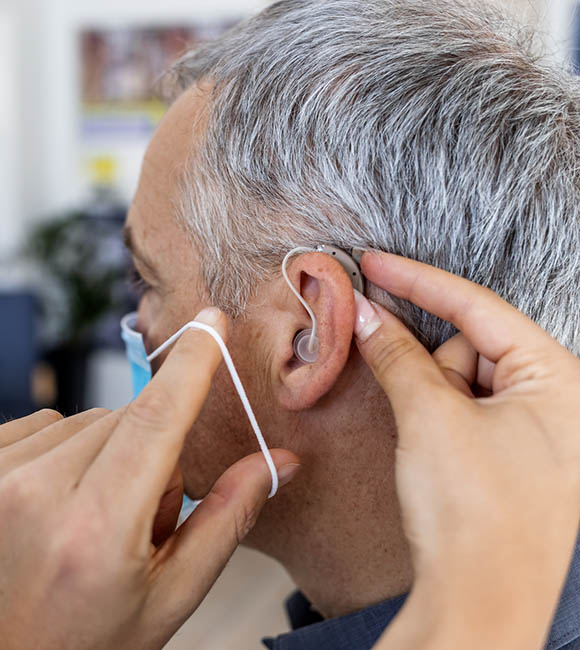 Hearing Aid Fittings
We also understand and emphasize the importance of your hearing aid fitting properly. While the severity of your hearing loss dictates the best hearing aid options for you, it is only our experienced professionals who can ensure that you have the best-fitting option regardless of its type. Those with mild to moderate hearing loss can use smaller hearing aids, such as invisible or completely-in-canal aids. People with more severe hearing loss require a larger – though still unobtrusive – aid such as a behind-the-ear or in-the-ear model. Either way, we'll always work with you to ensure the physical and aesthetic comfort of your aid.
Discover the most advanced, state-of-the-art hearing aids we have to offer. Our newest model, Evolv AI, has been expertly designed to provide the most exceptional sound and advanced connectivity, and effortlessly fits into your lifestyle. Livio AI is the world's first hearing aid to provide both superior sound quality and the ability to track body and brain health. Featuring integrated sensors and artificial intelligence, a language translator, and the ability to make an adjustment to your hearing aids anytime, anywhere with the Thrive app. Schedule your appointment today. Come see one of our hearing aid specialists and see what they can do for you. We look forward to meeting you.
Expert Hearing & Vision Care at Four Locations in Northern New Jersey and Northeast Pennsylvania